By Tristan Baurick
The Times-Picayune | The New Orleans Advocate
Oct. 30—When firefighters rushed from across the state to battle a massive wildfire in Beauregard Parish, a firefighter from Texas noticed something unsettling about his Louisiana colleagues: most of them had no idea what they were doing.
"They'd say 'we're just going to go hit it,' and want to rush in," said Taylor Lott, a volunteer firefighter in Beauregard who trained in wildland firefighting in his home state. "No, in the conditions we're having and the fires we're having, you can't do that. There's just a lot they didn't understand."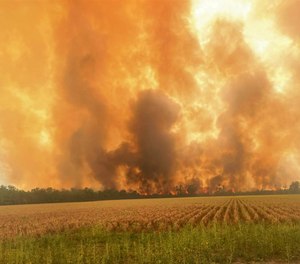 During the first days of the Tiger Island Fire, some firefighters wanted to race large trucks to the biggest flames and blast them with water, much as they would a house fire. That approach is not only ineffective and unrealistic — it could put firefighters at risk, wildland firefighting experts say.
It defies basic wildland firefighting training. But that training — commonly called "red card" certification — hasn't been available in Louisiana.
"Very few have red cards in Louisiana, and nobody offers the training in the state," Charles 'Skip' Pinkston, president of the Louisiana Fire Chiefs Association, said in late August, during the height of the wildfire season. "The need for the training's been talked about many times, but it's never materialized."
Tiger Island, the largest wildfire in Louisiana in at least 80 years, and the hundreds of other blazes that raged across the state in recent months should change that, said Kent Maxwell, a founder of Colorado Firecamp, a wildland firefighting school near Salida, Colo.
"Somebody in Louisiana is going to have to step up — either from the governor's office or because people are pushing from the bottom up," he said.
That's starting to change, at least temporarily. The Louisiana State Fire Marshal's office recently announced a half-dozen one- and two-day wildland firefighting classes and a relatively small red card certification program that starts with an online course and ends with hands-on training in the coming months. By early next year, up to 50 firefighters may have freshly-minted red cards.
But a one-off program that gives basic training to a few dozen of the state's several hundred firefighters won't be nearly enough, fire officials said.
"This year's fires were an eye-opening experience, especially with how fast the (conditions) change," said St. Tammany Fire District 2 Chief Randy Hess, who has no red card-certified firefighters on his staff of 46. "To have people showing up with zero training is definitely a liability."
The Louisiana Department of Agriculture and Forestry's 150 full-time wildland firefighters make up the bulk of the state's wildfire response capabilities. This year's busy wildfire season proved the department needs lots more, said Mike Strain, the state agriculture and forestry commissioner. Even if state leaders approve his recent request for 60 more firefighters, he'll still need hundreds of local fire departments to pitch in when things heat up.
"That's why we need that additional training," he said. "We have 400 mostly volunteer fire departments in this state, and they need all the training they can get."
Gov. John Bel Edwards agrees the need is there, especially as the state gets hotter and drier in the years to come.
"We are going to have to invest in more time, effort and training," he said in late August while visiting the Tiger Island Fire.
It's unclear how Edwards, whose term ends in January, plans to boost training. His office did not respond to repeated requests for information on specific proposals. Gov.-elect Jeff Landry declined to comment on wildfire training.
For many firefighters, it's clear that Louisiana will continue to be heavily dependent on its better-trained neighbors and other states to send help. That's to be expected with large fires. Even western states with large numbers of wildland firefighters regularly need reinforcements. But Strain said Louisiana needs to be prepared to handle its own problems until help arrives.
Growing risk
Strain called the number and intensity of wildfires this year "unprecedented." In August, wildfires charred more than 60,000 acres across Louisiana. That adds up to three times as much land burned in less than one month than all of last year, and 13 times as much as 2021 and 20 times as much as 2020, according to state records.
Most fires were relatively small, ranging from 10 to 100 acres, but the sheer number was overwhelming, Strain and local fire officials said. Louisiana has averaged 770 wildfires per year over the past decade, but August alone produced about 600.
Evacuations were called for parts of Caddo, Sabine and Vernon parishes, and all of Merryville, a town of about 1,000 people in Beauregard. Dozens of homes burned, several firefighters were injured and at least two people died from wildfires this year.
On Monday, a mix of wildfire smoke and dense fog led to chain-reaction crashes on I-55 near Manchac that killed seven people and injured dozens more.
Edwards said increasingly hot, dry summers have turned the state into a tinderbox, and the problem is only going to worsen.
"This is the new normal with climate change," he said in August.
A growing number of wildfires may have wide-reaching impacts on air quality, safety and the economy.
Forests cover about half the state. Most of these 15 million acres are planted with loblolly pine and managed like farms. Louisiana's timber industry generates about $4 billion per year, making it by far the state's top crop.
Losses from the Tiger Island Fire alone likely topped $32 million, according to Ag and Forestry estimates.
Wildfire risk in Louisiana is expected to increase by 25% over the next two decades, according to recent estimates by Louisiana State University. But the magnitude of property damage will grow by 101% because development is increasingly targeting fire-prone areas at the edges of cities.
Nowhere is this more evident than the north shore of Lake Pontchartrain. The area has some of Louisiana's fastest-growing parishes and the state's highest wildfire risk. St. Tammany Parish suffered the state's highest losses from wildfires in recent years, and the trend is expected to grow to nearly $5 million per year, according to LSU researchers.
St. Tammany Fire District 1, which serves the Slidell area and is one of the largest firefighting organizations in the parish, has more than 160 firefighters. None have red cards.
"Without a doubt, that training would benefit us in a lot of ways," said Tim Harrison, the district's training officer.
Getting firefighters to sign up for it might have been tough in years past, but not anymore.
"The fires we had this year — it put us all on the ropes," Harrison said.
While contending with several small wildfires in St. Tammany, the district managed to send about 30 firefighters to the state's bigger blazes.
"As soon as they got back, our chief sat them down with a notebook and said 'Ok, what did you learn?'" Harrison said.
'Zen' firefighting
Most firefighter training is focused on how to snuff out fires in homes and other buildings. These "structural fires" are usually focused on a single site and tend to be predictable. Pour on enough water, and the battle's usually over in an hour or so.
"Basically, you put wet stuff on red stuff, and the fire goes out," said Maxwell, the Colorado firefighting instructor. "The tactics are more shock and awe. Wildland firefighting has a different mindset. It's more a zen thing."
The strategies for tackling wildfires are much less direct, and the targets may be many and multiplying in difficult-to-reach areas. Temperatures, humidity, wind, topography and other conditions play a bigger role in the fire's behavior, as do fuel types — from trees and grasses to the soil underfoot, which can smolder, largely undetected, for weeks.
During training, firefighters learn to use Pulaskis and other hand tools to dig fire lines aimed at cutting a fire off from fresh fuels. They're also introduced to the idea of fighting fire with fire. "Back burns," usually lit with drip torches, are used to ignite vegetation ahead of a wildfire, burning away strategic patches to weaken the bigger blaze.
Battling a wildfire also has different physical demands. Maxwell likens it to a marathon rather than a sprint-like approach to a structural fire. Wildland firefighters often have to hike over rough terrain and use hand tools for several hours a day.
"The (red card) fitness test — it's a whole 'nother ball game," Harrison said. "You're being tested for the kind of fitness you need to fight a fire for days or weeks."
Along with a fitness test, which usually involves a timed three-mile hike with a 40-lb. pack, red card certification requires 32 hours of classroom training and a day of field exercises, including instruction on personal fire shelters, which are essentially flame-resistant cocoons to hide in if a blaze can't be outrun.
All of this takes time and money — which aren't plentiful at small or volunteer-dependent departments.
"Everybody struggles with having adequate staffing," Harrison said. "You want to send people to trainings, but you have to have people filling your station."
While the training might have been considered "nice to have," departments in wildfire-prone areas should now see it as essential, said Lott, the Beauregard firefighter.
"You've got to have boots in the woods with hand tools at the ready, and people who know what they're doing," he said. "I hope Louisiana realizes how important this knowledge is."
(c)2023 The Times-Picayune | The New Orleans Advocate
Visit The Times-Picayune | The New Orleans Advocate at www.nola.com
Distributed by Tribune Content Agency, LLC.