FDNY's history changed in an instant on September 11, 2001, losing 343 members in the collapse of the World Trade Center towers – a number no one could comprehend in the moment. And over the past 22 years, the number of members who have died of WTC illness from working the pile continues to climb, this week reaching 342.
While the department continues to change post-9/11, what remains unwavering is its support for the families of fallen members and those firefighters battling WTC illness.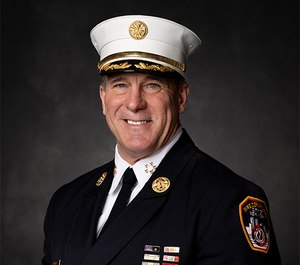 In an interview leading up to the 22nd anniversary of this most devastating day in FDNY history, I spoke with Chief of Department John Hodgens, who shared his personal 9/11 experience and described how the department continues to honor its fallen firefighters and support their families year after year.
FireRescue1: What are your memories of 9/11? Where were you when it happened, and what were you thinking as everything unfolded?
Chief Hodgens: On 9/11, I was in the rank of lieutenant. I was working in Brooklyn, in Flatbush, Ladder 157. It's not a company that would respond to the World Trade Center due to the distance. Even at a fifth alarm level, we wouldn't normally go there.
I was working; we worked the night tour. It was about 8 a.m., and we were watching in the kitchen, all the firefighters and myself. We were just eating breakfast and looking at the TV. It was just on; nobody was watching anything.
The funny thing is it seemed like a very slow news day. News4 had a little segment on fishing or something. We were like, "Wow, there's nothing to talk about. They're really scraping the barrel here." And then it wasn't long after that over the firehouse voice alarm system that gives us updates on big events throughout the city, it announced a third alarm at Manhattan Box 8087, which is the World Trade Center. That was the first signal transmitted. Soon after, that was on the news.
The first plane had gone into the towers; there wasn't a video of that. It was just a picture of the side of the building with a hole in there, smoke coming out. And from the vantage point of the cameras, it really didn't look that bad, honestly. The cameras were probably far away. It looked bad, obviously, but not anything of what it would turn out to be. We knew it was going to be a job-wide event, which I experienced in 1993 with the bombing of the World Trade Center.
Everybody in the FDNY was affected by that. They relieved people, they spent nights there, whatever it may be. And I knew this would probably be similar. This was going to be an ongoing situation. I even remember saying to the probie, "This is gonna be a big event, this is gonna be something that we talk about. So get ready. [If you weren't at the '93 bombing, you hear about it all the time or you're probably thinking, "why wasn't I there?"] But this one, you're working – you're going to be a part of this."
We started to hear companies in Brooklyn that were heading over to the site. We were monitoring it, and it wasn't until the second plane hit that you got that really sinking feeling that something was really, really wrong. And everything changed instantly. 
Did you see the footage of the second plane hitting to know that it was actually a much larger plane?
Yes, we saw it. Just the explosion of it, the horror – now it just went into something that you couldn't even imagine, honestly. Never even imagine. And now we know it was a terrorist event.
Everybody who worked in our firehouse came to the firehouse.
How and when did you respond to the scene?
I was getting off duty at 9 a.m., so the person who was relieving me came in. I called the Brooklyn dispatcher and said, "We're ready. If you need us, send us there." And normally, if they could, they would in a situation like that. But the two adjoining companies were out already – one had a water leak, and one had gone to the site. So I said no, you can't leave Flatbush unprotected, you have to sit tight. That would have been a whole different story had we been assigned because we would have been there for the collapse.
But people were coming in, and the plan was to go there. That's what we were doing. And eventually, we got everybody together, and we formed teams. We made a riding list. It's got my name and the five firefighters – something I carried with me.
We actually got down there – I got down there in the back of a pickup truck, as many people that could fit, we went right through the streets. And as we were traveling, the first tower fell. And it just – it was somber – everybody was scared. I mean, you really didn't know what to expect.
There were some problems getting to Manhattan. Everything was closed. They were letting us go, but there was still a lot of traffic, and everything was a mess. We eventually started going over the Brooklyn Bridge and by that time, both towers had fallen. It was like a sci-fi scene. It was just devastation. And that's pretty far away, but you couldn't even see; there was so much debris in the air.
That was it. Everything changed. Everybody's lives changed right there.
Can you share more about what it was like at the scene?
We were there all day. It was eerie, it was something you would try to wrap your head around, trying to comprehend the loss that we had sustained. People were coming up to me that I hadn't seen in a while:
"Did you see [somebody else]?"
"No."
"Oh, they were working."
And they were probably gone. And it was just one after the other. The company I came from, before I was promoted to lieutenant, was in the Lower East Side of Manhattan. At some point somebody came to me and said, "11 Truck is gone." I said, "What do you mean gone?" "Yeah, they're gone. They were in there. They were in the collapse." And I was like, "You know who was working?" And they told me, and it was all my friends.
It was hard to wrap your head around. It was hard to push forward, but we did.
How did you start to comprehend the scope of what had happened – and what was ahead?
We knew it was very bad. We knew the fires were very out of control. We knew steel melts at a certain temperature, so there could be a collapse. Even today I don't believe I would have thought that the building would have collapsed like that. I would say a few floors are going to collapse, but the building to have a pancake collapse was something that I don't think anybody really thought would happen.
But we all joined together, the whole nation. It was such a patriotic time.
In the fire department, there are hot shot companies – companies that are very busy and they have a swagger to them. And I happened to be in one of those, but at that site, it didn't matter if you were in the slowest company, the busiest company, we were all there. We were all together. There was no separation whatsoever, and the work was difficult. We were in this landscape that you couldn't even imagine. You couldn't have dreamt it. So, it was a lot.  It was a lot.
But time went by, and we kept at it. We eventually found most of our people, not all of them. And there were a lot of funerals, a lot of memorials. That's why, in the middle of August, I start to feel a certain way.
It's something that you can't shake. It's 22 years. It's a terrible feeling.
What do you do when that feeling starts to arise within you each year around this time?
What makes me feel better is we do a lot for our families. We do a lot to commemorate and honor the day, honor the members, honor their families. It's a part of this job. When you can speak to somebody, get down, hold their hand and talk to them, maybe tell them a story about their loved one or whatever it may be, that's kind of how we keep going – we're like the rock. And inside you may not feel like that, but you know that's what we do. That's the role we play. And it does make you feel better to make a difference.
Do you have any personal rituals or ways that you recognize 9/11 every year?
More so before I was in this role, I may have done some personal things and visited specific firehouses where I knew people who had died that day. Now, as chief of the department, my schedule is kind of built for me. I attend many events. We have one this afternoon that honors all the members who have died since 9/11 from World Trade Center illnesses. And then every night – the ninth, the tenth, the eleventh – we have ceremonies to attend and masses.
There's a remembrance walk for Father Mychal Judge. He walked from his church to the site, so every year we walk the route. There's a lot of events all over the city for us to visit and reflect and honor, and try to be there for family members who lost loved ones.
How do you keep it personal? Is there anything else that you try to do or reach out to anyone in particular, or is it organic as it happens throughout the day or that week?
It's organic, but one thing I will do is in every firehouse and all fire department buildings, there'll be a hanging on the wall with everybody's picture, 343 photos. I'll walk through and I'll just remember everybody that I knew personally and was my friend, and I will think about them for a minute. I go through the list – and it's quite a few. It's quite a few. 
It's amazing that so much time has gone by – I think what they'd be like now. How old were they then, how old would they be now, things like that. And what's good to see is the children of a lot of these members that were young – 2, 3, 4 years old when this happened, or even unborn – are becoming firefighters now.
Did any of your friends' kids join up?
Yeah, every probationary firefighter class we have children – the "legacies" – who want to follow in their father's footsteps. It's pretty touching and brave of them.
I speak at the graduation for the probationary firefighters' school, and I always look and see who's coming on the job that had a father's that passed away that day. And sometimes I knew their father, and I always mention that. I'll tell a little something about my experience with them, and they really, really appreciate that.
What does the department do to try and help the new members coming in, whether they're legacies or not, to understand the enormity of that day? 
As they go through school, there are actually times set aside to not only talk about what happened, but to show them some of the things from that day. There's World Trade Center steel that's at the academy. It's set up where there's four pieces, and they set up two chin-up bars there, and that's where the probies do their pull-ups and chin-ups and they remind them of where that steel came from.
9/11 is a big part of their indoctrination into the fire department. It's talked about throughout, and they go to the wall where they have everybody's picture, and they'll have a class basically about that. So yeah, they know a lot about 9/11 when they leave the fire academy.
How does the FDNY help those members impacted by WTC illness?
Some of the firehouses honor the past by having golf outings in people's names – fundraisers to raise money to buy family transport vans, which transports family members whose loved ones are sick, so they don't have to worry about getting to hospitals. We take care of all that. We pick them up, we take them home, we get them food. We really take them in and take care of them. And our family assistance unit is a big part of that, and they are just such caring people.
We also have support from other nonprofit groups, the fire department itself has the FDNY Foundation, which contributes some money to some of these causes. We're involved with the Tunnel to Towers organization. There's Answer The Call, which was founded by Rusty Staub many years ago, and the Silver Shield Foundation, which gives scholarships to the children of 9/11 legacies.
9/11 happened 22 years ago, but what the department is experiencing is ongoing. We consider a person who dies of World Trade Center illness to be a victim of that day. And we honor it in a big way. We have department funerals, family assistance. They get right with the family and walk them through the whole process. I go to most of the funerals myself, and there's a lot. A lot of the top chiefs also go to these funerals. It's a big, big deal. And the family greatly appreciates it. That's really the reason for doing it honestly.
---
Additional reading
Find additional 9/11 coverage and remembrance at FireRescue1's September 11, 2001, resource page.