By Ryan Oehrli
The Charlotte Observer
CHARLOTTE, N.C. — Local and state fire safety officials are discussing implementing more fire-prevention requirements at large wooden-building construction sites after this month's massive, deadly blaze in Charlotte.
The five-alarm fire killed two construction workers and sparked spot fires on nearby structures. Firefighters and a crane operator battled to save lives as flames swept the site, where 15 workers were rescued, city officials said.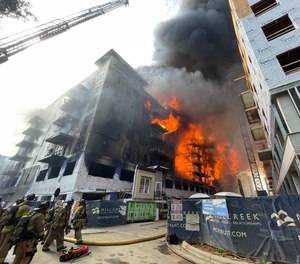 A day after the fire released smoke visible for miles, Mecklenburg County Fire Marshal Ted Panagiotopoulos sent an email to North Carolina Chief Fire Code Consultant Charlie Johnson, saying that there may be "an opportunity" to discuss updates to the state's fire code.
He pointed to 2022 standards from the National Fire Protection Association that give input on how to safeguard construction operations at tall, wooden structures, and large, wood-frame structures. The 2022 edition of NFPA 241, which would be new to state code, includes a chapter on "Safeguarding Construction Operations for Large Wood Structures."
Before construction starts, a study should ensure that passive and active fire protection features get installed, along with separations between other nearby buildings also under construction, it states. Also to be studied: how people can safely exit the sites.
"I would very much like to be included in these conversations," Panagiotopoulos said in the email to Johnson, noting that Mecklenburg County Code Enforcement Director Patrick Granson recommended that he reach out .
Tall, wooden buildings a challenge
Through a county spokesperson, Mecklenburg County Director of Land Use and Environmental Services Agency Ebenezer Gujjarlapudi said that NFPA 241 provides "measures for preventing or minimizing fire damage to structures undergoing construction."
"As part of normal conversation between fire professionals in the aftermath of such incidents, they were discussing if there were any potential opportunities for changes / revisions / inclusions to the existing code that may be helpful in prevention or mitigation of such fire incidents – when the next code revision cycle commences," he said.
The 2022 standards are "written around understanding that there are all these hazards" at construction sites, NFPA Principal Engineer Jonathan Hart told The Charlotte Observer.
"It's a document that really says you need to have a plan because it's unique for every individual site," Hart said. "Someone has to be responsible for a fire prevention program on a construction site."
The under-construction property at 7741 Liberty Row Drive was podium or pedestal construction, meaning that the bottom story was made of noncombustible material like concrete or steel. Upper floors were wooden.
Podium-style structures, like the one that ignited in SouthPark on May 18, are increasingly common in Mecklenburg County, North Carolina and the United States. County spokesperson Pamela Escobar recently gave a "very rough" estimate that there were about a dozen podium-style apartment buildings under construction in Mecklenburg County.
"It's a challenge," Charlotte Fire Department Deputy Chief of Personnel Administration Peter Skeris said about such buildings during an emotional press conference last week. "We all understand the density and why they build the way they do. Some of the building codes are not friendly to what we do as a profession."
Once wood starts to go, collapse is imminent, he said.
The more wood on a project, the harder it is for firefighters to put flames out because wood fuels fire, Glenn Corbett, an associate professor of fire science at the John Jay College of Criminal Justice in New York, previously told The Charlotte Observer.
The situation is made worse when a building is under construction because the unsealed structure essentially creates a wind tunnel, he said.
Exactly what sparked the Charlotte fire is not clear. Fire officials have said it was sparked near a trailer containing spray foam insulation.
STRUCTURE FIRE: 7700 block Liberty Row Dr. Charlotte Fire fighters currently on scene battling blaze at construction site. pic.twitter.com/ZWIBK1WuNq

— Charlotte Fire Dept (@CharlotteFD) May 18, 2023
A similar 2017 fire in Raleigh destroyed The Metropolitan, an apartment complex under construction. Hundreds of people had to be evacuated from restaurants, apartments and condos. The cause of that fire was not determined.
Tuning into the construction phase
Building codes are typically designed to ensure that a building is safe once it's up, but NFPA 241 addresses construction safety concerns, Hart said.
"That's really an entire standard dedicated to how… we protect the site, how to protect the workers and how to protect the first responders who would be responding to an incident on a site like this," Hart said of the SouthPark fire.
For an updated version of NFPA 241 to be implemented, it would likely have to go through a number of committees and councils, Johnson told The Charlotte Observer. Those would include the N.C. Fire Code Revision Committee — which Charlotte Fire Department Senior Inspector Colin Triming chairs — as well as the state's Building Code Council and the International Code Council, Johnson said.
In 2014 the state's Building Code Council elected to move to six-year code cycles, a change from the prior three-year code cycles.
Any approved changes will likely not go into effect until January 2025, Johnson said.
But there is an often-necessary process by which changes can be introduced sooner, Johnson said.
The North Carolina Fire Marshal's Office hopes the Fire Code Revision Committee "will consider the last edition of NFPA 241," Chief State Fire Marshal Brian Taylor wrote in an email to The Charlotte Observer.
It would have to be a revision only and not printed in the code. The next code is complete and ready for print, Taylor said.
Whatever conclusions the Charlotte Fire Department reaches in its investigation will be "crucial" to any changes, Taylor emphasized in an interview.
"We're on heightened awareness of these, and especially when they're in the most populated areas, because generally you will not see these in rural areas," Taylor said. "You'll see them in downtown Raleigh, downtown Charlotte. The way we look at it nationwide is that it's on our radar."
[Rapid Response: Charlotte leaders detail 'unprecedented' construction site fire, secondary blaze response]
The N.C. Fire Code Revision Committee is scheduled to meet on June 6 at the Greensboro Fire Prevention Office, according to the email exchange between Panagiotopoulos and Johnson.
"We do hope that the latest updates will be considered," Taylor told The Charlotte Observer in an email.
Despite multiple calls and emails from The Observer, Charlotte Fire Department investigators and local members of the N.C. Building Code Council did not respond to questions about possible code updates.
Data reporter Gavin Off and planning and enterprise editor Jodie Valade contributed to this report.
©2023 The Charlotte Observer.
Visit charlotteobserver.com.
Distributed by Tribune Content Agency, LLC.