By Kerry Burke, Larry McShane
New York Daily News
NEW York — A deranged defendant with a lengthy rap sheet was convicted Wednesday for murdering a beloved Bronx FDNY emergency medical technician with her own hijacked ambulance, ending a nearly six-year wait for justice by her heartbroken family and friends.
Jose Gonzalez, 31, heard the verdict following a month-long trial and two days of deliberations in the gruesome killing of veteran EMT Yadira Arroyo, the mother of five sons. He stood impassively as the decision was announced.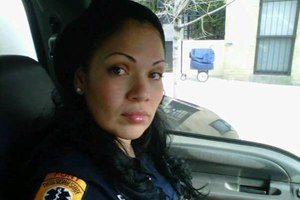 Gonzalez was charged with twice running down the first responder with her stolen truck in the March 16, 2017, killing that shocked the city and devastated her colleagues. Co-workers wept in the courtroom and shared hugs outside with the victim's family.
The decision came eight days before the sixth anniversary of the death of the 44 year old, who was revered by her co-workers. The case was repeatedly delayed by more than 50 hearings before Gonzalez was finally deemed mentally fit to face a Bronx jury.
The trial began last month following a pitched legal battle where defense lawyers unsuccessfully argued he was too sick to stand trial.
Arroyo was a 14-year FDNY EMS veteran when she went to work on overtime on the eve of St. Patrick's Day, with prosecutor Michael Schordine recounting the horrifying details of her final tour of duty in his opening argument.
"Dragged by the rear wheel down the street," he told jurors. "She was dead, never to finish her shift. This wasn't a tragic accident … This was so much more. It wasn't an accident, it was a murder."
Jurors watched a video of the fatal encounter between Arroyo and the drug-addled suspect with a rap sheet of 31 prior arrests. Arroyo's distraught partner was seen screaming "my f—ing partner!" as an off-duty MTA police officer and bystanders tackled a fleeing Gonzalez.
During one pre-trial hearing last year, Gonzalez insisted Arroyo's death was an accident and denounced the prosecutor as a Satanist. His first court appearance came in April 2017, when he pleaded innocent.
The details of Arroyo's killing remained fresh despite the passage of time. She was working with partner Monique Williams when they spotted Gonzalez riding on the back of their truck around 7:15 p.m.
When the EMTs pulled over, Gonzalez jumped off the vehicle and tried to rob a passing man's backpack, authorities said. Gonzalez came out to investigate, with the defendant climbed inside the ambulance and twice running her over.
©2023 New York Daily News.
Visit nydailynews.com.
Distributed by Tribune Content Agency, LLC.