By Michelle Marchante
Miami Herald
MIAMI — A new health and wellness center for firefighters has opened as part of Miami Fire Rescue's efforts to curb, detect and treat cancer, post-traumatic stress disorder and other medical conditions that adversely impact firefighters.
Cancer is a leading cause of death among firefighters, with fire crews more at risk for certain types of cancers compared to the general population due to exposure to cancer-causing chemicals. In 2022, 75% of the firefighters whose names were added to the National Fallen Firefighters monument died from cancer, said Miami Fire Rescue Chief Joseph Zahralban during a Thursday news conference outside the new center, 1502 NW Fourth St., next to loanDepot park, the home of the Miami Marlins.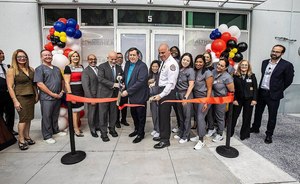 "We need to control our own destiny," Zahralban told the Miami Herald after the conference, noting that the new center, created in partnership with Miami-Dade's public hospital system Jackson Health, will help the department "work toward identifying early signs of cancer, heart disease, stroke and even emotional illnesses like post-traumatic stress disorder."
"We know that early recognition is the key to helping them [firefighters] to live a long and healthy life," he said.
Firefighters at higher risk for cancer
Firefighters are often exposed to known and suspected cancer-causing substances, including liquids, gases, fumes and other chemicals and toxins while on the job. Many buildings contain synthetic and plastic materials, which create more smoke than natural materials, according to the Leukemia & Lymphoma Society. The man-made materials often release cancer-causing agents when they burn.
And the foam firefighters use to extinguish fires emits chemical compounds known as PFAS. Studies have shown that high levels of exposure to certain PFAS can lead to increased risk of kidney or testicular cancer, changes in liver enzymes and increased cholesterol levels, according to the Centers for Disease Control and Prevention.
Fire crews are also at risk for other health conditions, including heart disease, lung disease and stroke. And like other first responders, firefighters can experience trauma from the tragedies they respond to, such as 9/11, the Haiti Earthquake of 2010 and the Surfside condo collapse in 2021.
Most recently, crews responded this week to a murder-suicide involving a 3-year-old boy in Coconut Grove.
"Despite all of their training and all of their education, our firefighters could do nothing to save this child. These emergency calls have life-lasting effects on our firefighters," said Zahralban. "They become memories — nightmares. They haunt you forever…"
Center latest in health initiative
At the center, firefighters will have access to peer counselors and clinicians. Staff will provide physicals and a variety of services including X-rays, ultrasounds, blood work, stress tests and cardiac exams to the more than 800 firefighters of Miami Fire Rescue. Eventually, the center will expand its services to retired firefighters and the families of fire service members, said Dr. Paul Adams, the medical director for Miami Fire Rescue and the new health and wellness center.
The center is the latest initiative stemming from Miami Fire Rescue's comprehensive cancer prevention program, an effort the department created several years ago to identify and eliminate risk factors and hazards that can affect the health and safety of fire crews.
Zahralban said the program has already led to other changes, including better ventilation at fire stations, a comprehensive decontamination process for firefighting gear and improved medical exams. The department is also no longer training with foam, though crews still use it in certain situations, such as boat fires.
"We know the job you do is incredibly challenging and every day you go into work you risk your lives to protect the people in our community … Jackson stands ready 24/7 to protect you whether it's at Ryder Trauma Center, one of our emergency departments and now at this facility," said Jackson Health CEO Carlos Migoya.
"Only the best for the best," he said.
©2023 Miami Herald.
Visit miamiherald.com.
Distributed by Tribune Content Agency, LLC.