By Alison Sneag
Los Angeles Times
LOS ANGELES — Flames shot up inside NASCAR Cup Series driver Ty Gibbs' Toyota while the 20-year-old practiced for the Clash inside the LA Coliseum. As Gibbs pulled over, unhooked his belts and hurried out the window, AMR safety vehicles navigated the unique quarter-mile temporary circuit — a track that didn't exist just weeks earlier — and within seconds, deployed their equipment to douse the flames and preserve the race car.
The sight of an emergency vehicle on the playing surface — an ambulance on the field of Cincinnati's Paycor Stadium when Buffalo Bills safety Damar Hamlin collapsed during a Monday Night Football game against the Bengals — halted the sports world in its tracks a few weeks before the fire on the Coliseum floor. Millions of people watched in real time as the NFL's emergency action plan was set in motion.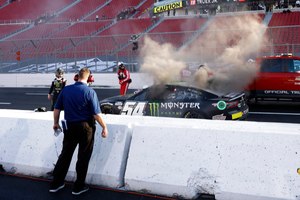 "One of my co-workers sent me a text, 'Are you watching this?' " said Tom Bryant, NASCAR's vice president of racing operations.
The emergency response that followed Hamlin's collapse was a public display of the behind-the-scenes work that goes into these kinds of scenarios, especially in motorsports, where first responders arrive within seconds of an incident.
Had Gibbs, or any other driver, needed emergency medical attention, what was the plan for a venue that's relatively new to the series? What does the safety plan look like for the racers and fans at the Acura Grand Prix of Long Beach, which is situated among open thoroughfares in a bustling downtown area? How about the city streets of Chicago, which is set to see a new NASCAR race later this year? What happens if an NHRA racer suffers injuries in a high-speed crash?
Motorsports has developed detailed answers after Dale Earnhardt was killed during the 2001 Daytona 500 and NHRA Funny Car driver Scott Kalitta died after a qualifying attempt in Englishtown, N.J., in 2008. IndyCar's aeroscreen protects drivers from flying objects, which killed British driver Justin Wilson in 2015 when he was struck in the head by debris from a single-car crash ahead of him.
Motorsports safety initiatives, from belts to helmets and chassis and safety barriers, continue to evolve with advances in technology. Ryan Newman credited NASCAR's innovations and his Arai carbon fiber zero helmet with helping him survive a massive midair Daytona 500 crash in 2020, after which he needed to be rescued from his upside-down car.
Racing operations officials, track safety officials and motorsports series medical directors shared more about what happens if an emergency situation like Hamlin's were to happen at a local racetrack or a venue on their calendar.
By air or by ground?
For drivers who need urgent care beyond the infield care center, if the nearest Level I trauma center is more than a certain distance away (about a 20-minute drive), NASCAR requires the host facility to have a medevac (helicopter) on site, as well as an advanced life support ambulance, even if there is a helicopter, just as a backup. There's also a backup trauma center and designated burn center (which sometimes can be a different entity from the trauma center).
Halifax Medical Center, a Level II trauma center, is located a little more than a mile from Daytona International Speedway, which counts the Daytona 500, Rolex 24 and Welcome to Rockville music festival among its marquee events.
For events on temporary street circuits like Long Beach, which hosts IndyCar, IMSA, Stadium Super Trucks and more, street races "don't have the best ingress and egress to get in and out of," said Tim Baughman, IndyCar's senior director of track safety and medical services. The Long Beach Fire Department has transport units set up on the periphery and location points where they can go across the track and then transport people to the trauma center.
For NHRA events, some racetracks have an onsite helicopter, or at a site close to the facility. Depending on the venue, ground transport could be considered quicker, based on average transport time communicated by county authorities. (Ground transport is just as quick or quicker if it's needed at Pomona.)
"It's all a calculus on what is the quickest way to get the patient to the Level I trauma center," said Dr. Phil Surface, NHRA's medical director and on-site medical services leader at national events. "People will think lots of times, well, helicopter would be faster, and that's maybe true. But people forget that it frequently takes, for the helicopter to get spooled up and running, upwards of seven, eight, ten minutes. … If you had the helicopter running and the pilots included in it, it might be quicker via helicopter, but when you consider that, that's not a reasonable thing. [They] can't just sit there with the engine running all day and waiting."
What if a driver suffers burns? In some locations around the U.S., the burn center is not necessarily at the closest Level I trauma center.
"Current emergency medicine techniques are such that you should transport to the nearest Level I trauma center and stabilize [the patient] prior to transferring to a burn center," said Surface.
Know your teammates
In July, NASCAR will race through the streets of Chicago for the first time. Safety meetings with the city's large event coordinator and the medical team that supports large events like Lollapalooza have been taking place monthly, starting well before the race was made official. Those meetings, which can start as early as six months in advance, will ramp up closer to race weekend. (It's about six weeks out for returning facilities, plus meetings the week of the event.)
When the Coliseum, which hosted its second Clash on Feb. 5, or any new track joins the schedule, series like NASCAR and IndyCar tour each facility before any on-track activity to view minute details and walk through the emergency plan, such as:
the rooms where drivers would be taken
which medical personnel will accompany the driver
who will transport the family members
"Our model, the care center is staffed by doctors and nurses from a local regional medical facility. So they already have relationships with the other doctors and nurses at that medical facility, which is super important when you are in an emergency situation and you're dealing with a patient or multiple patients who are in an emergency situation," Bryant said.
IndyCar follows a similar process to establish rapport with new partner medical facilities, and spells out what medical care the series provides and what is needed from the off-site medical providers.
"They understand that our cars could crash at 80 to 100 miles an hour and it's not going to be like a normal incident out on the street because our cars are designed to absorb those crashes. So those types of information is shared," Baughman said.
In early February, IndyCar debuted a new mobile medical unit that will help evaluate competitors and others who need medical attention for potential transfer to off-site care centers. The transporter holds two hospital beds, equipment needed to care for patients with urgent needs, (including a resuscitation cart, assorted orthopedic care supplies and a portable X-ray machine), a meeting area for patient consultation and emergency updates, and video feeds to monitor on-track activity.
Practice
Several hundred fire and safety team members from tracks that host NASCAR, IndyCar and IMSA events attended NASCAR's preseason summit, a hands-on, four-day training event in January in Concord, N.C. The setup at Charlotte Motor Speedway included scenario training events: extricating a driver from a chassis, fighting a fire, cutting a windshield and cutting a frame.
"All the things that we hope we don't have to do," Bryant said.
"We cut up a bunch of sheet metal and a bunch of metal tubing and lit a bunch of stuff on fire and made a hell of a mess. It was tremendous training — if you talk to those folks, they'll say it's the best training they get."
IndyCar, which has a partnership with IU (Indiana University) Health, has a "unique hybrid safety and medical team," said Dr. Julia Vaizer, IndyCar and Indianapolis Motor Speedway's director of medical services.
"We call them separate, right? We can say medical team, we have a different safety team, but we work together," Vaizer said. "We train, we do everything together. Our physicians train with the safety team in firefighter practices and extrication training because we want our physicians to know the steps that the safety team will be performing so they can anticipate that and we go the same way for our paramedics team."
NHRA's traveling safety team, like its counterparts, is comprised of firefighters, paramedics and EMTs who are trained in motorsports injuries, evacuation and extrication. When they are not at the track, many of these professionals work in local emergency rooms and health care professions. They continually stay up to date on training and certifications.
"We have a really time-tested safety team," Surface said. "It's well trained, has a long history and we work well with the local firefighters, medics and EMTs. With that backup in place, we tend to do a pretty good job."
Hamlin's incident resonated throughout motorsports. NASCAR discussed it. Medical professionals observed the process. Through the lens of first responders, there's always a takeaway.
"Anytime something like this happens, you just review your own procedures," Vaizer said. "You're making sure that everything is set, that the team knows everybody's job, and they're doing what they're meant to do as a specific member of the team."
©2023 Los Angeles Times.
Visit at latimes.com.
Distributed by Tribune Content Agency, LLC.