By FireRescue1 Staff
KENNETT, Mo. — A Kennett fire captain died within 24 hours of responding to a fire call.
According to the USFA, on Dec. 3, Robert "Big Rob" Lee Moore responded to the scene of a residential fire. Early the next morning, while at home, Moore suffered an apparent heart attack and passed away.
"Captain Moore was a well-respected member of our public safety team and will be missed by all who knew him," read a statement from the Kennett Fire Department.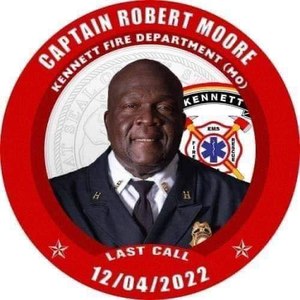 The department also shared details about Moore's fire and police service:
Captain Moore began his career as a part-time firefighter with the Kennett Fire Department in September 1992.
He was promoted to the rank of lieutenant in November 1995.
After accepting a full-time position as a police officer in May 2000, Moore continued to serve as a part-time firefighter.
In May 2005, Moore accepted a full-time position with the fire department, serving part-time as a city police officer.
Moore was promoted to the rank of captain in August 2019.
Moore's funeral will be held in the gymnasium at Kennett High School on Dec. 17, followed by burial at Oak Ridge Cemetery.