By FireRescue1 Staff
Jobs in public safety consistently rank among the most stressful jobs in the country.
However, the COVID-19 pandemic has compounded the issue over the past two years. Firefighters, EMS providers, police officers, dispatchers and correctional officers were on the frontlines of the pandemic – often worrying not only about the public's state of health, but their own as well.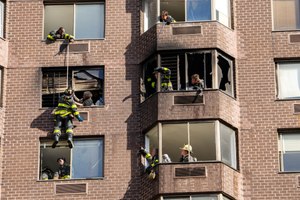 Now, the country is seeing a fallout of first responders, with many citing burnout from historic staffing shortages. This has put agencies of all sizes on high alert, leading to renewed recruitment and retention efforts.
A list from the Occupational Information Network (O*NET) recently ranked nearly 900 of the most stressful jobs in the U.S. It's no surprise that a handful of public safety jobs made the list, which ranks occupations by level of stress.
As your department continues its recruitment and retention efforts, don't forget to share the realities of the job, including the ability for a candidate to remain calm during high-stress situations.
Ensuring your next hire has this quality could not only save their life, but the lives of their colleagues and others on scene.
We want to know: How do you stay calm during high-stress situations? Let us know in the comment box below.
10. Forest Fire Inspectors and Prevention Specialists
Stress level: 87/100
Wildfires continue to rage throughout the U.S., most notably in California as blazes grow and spread at historic speeds. In September, the U.S. Forest Service (USFS) resumed its prescribed burning program with new rules, claiming it will minimize the risk of fires escaping control and damaging communities. The move came after the largest wildfire in New Mexico recorded history burned more than 530 square miles and destroyed hundreds of homes.
The role includes:
Enforcing fire regulations;
Inspecting forests for fire hazards; and
Recommending forest fire prevention or control measures.
Learn more about the USFS and wildland firefighting here.
9. Probation Officers and Correctional Treatment Specialists
Stress level: 88/100
Probation officers are often called the "eyes and ears" for the court. They carry out court mandates related to individuals placed on probation.
Some of their duties include:
Monitoring and attempting to modify conduct by encouraging positive behavior;
Decreasing negative behavior through sanctions; and
Reporting their findings to the court.
Their primary goal, however, is to promote change in individuals on probation to assist them in becoming productive members of society. Learn more about probation officers here.
8. First-Line Supervisors of Firefighters
Stress level: 88/100
Calling all company officers: Here's vindication that your job is not for the faint of heart. A leadership role is difficult for many professions and the fire service isn't immune from this. Promoting to battalion chief, captain, lieutenant or even fire chief is quite an accomplishment, but it's also a commitment and includes its stressful days, weeks or months.
If you're new to a leadership role, check out this article for newly promoted firefighters.
7. Firefighters
Stress level: 92/100
So you want to become a firefighter? Like most public safety career paths, the firefighting career field is competitive. Check out this special article series for a breakdown of what you should and shouldn't do as you prepare to join the fire service, as well as what you can expect from a fire service career.
The process may look daunting, but it's worth every step to don that bunker gear.
6. Police and Sheriff's Patrol Officers
Stress level: 93/100
Are you looking to become a police officer? Check out this special article series that breaks down everything prospective cops need to know, from finding the right agency to making it through the application process, to entering the police academy and ultimately starting your first day on the force.
5. First-Line Supervisors of Correctional Officers
Stress level: 93/100
Working in a leadership role in a correctional facility is challenging. If you're new to the role or considering applying for a promotion, read this article that outlines the six principles of effective leadership for correctional officers. And for those who have experience in a leadership role, which principle would you say is the most important for new hires or up-and-comers? Email us at editor@corrections1.com, and we'll add your suggestions to this article.
4. First-Line Supervisors of Police Officers and Detectives
Stress level: 94/100
So, you want to be chief of police? Read this article to learn more about the testing process and what you can do to position yourself if an opportunity presents itself. And for those who aspire to become a chief one day, this article includes best practices to help young new chiefs succeed in the first few years on the job from four longtime police chiefs.
If you're not quite ready for the chief role, but still want to get a police promotion, learn more about improving your odds for promotion here.
3. Correctional Officers
Stress level: 94/100
Are you thinking about becoming a correctional officer?
Because the job isn't for everyone, we've created a list of five things you need to think about before taking that first step. Once you've decided it's a career path you want to follow, read this article to learn about what to expect when you're a new correctional officer, including what the application and interview process looks like.
2. Transit Police Officers
Stress level: 97/100
Earlier this summer, New York City Mayor Eric Adams announced a new policy that would no longer require transit officers to patrol in pairs. The change, he said, would double officers' patrol areas. However, the change came to a screeching halt after an officer was attacked on the first day of the new patrol initiative.
Nearly a month later, video captured a violent brawl between NYPD officers and two teens in a Manhattan subway station, putting the spotlight on transit officer assaults once again in the Big Apple. To combat crimes near or in the subway stations, N.Y. Governor Kathy Hochul announced a plan in September to install security cameras in nearly 6,500 subway cars.
1. 911 Dispatchers
Stress level: 97/100
Do you want to become a 911 dispatcher? There is a significant level of stress and responsibility as a dispatcher. In this role, you aren't ever seen, but you are heard. And the things you hear may be tough and sometimes traumatic, leading to the importance of dispatchers becoming more involved in debriefs to help them achieve emotional recovery.
Read this article to learn more about what it takes to become a dispatcher. And if you need to hear it from someone firsthand, check out this article by Ricardo Martinez, dispatcher and creator of #IAM911 movement, where he reflects on his dispatch career and life-changing moments as a 911 dispatcher.