UPDATE: 
By Sohee Kim, Sam Kim and Shinhye Kang
Bloomberg News
SEOUL — About 149 people were killed and 76 others injured following a stampede at a Halloween party in Seoul, marking one of the worst accidents to take place in South Korea in years.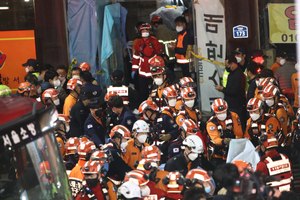 The stampede took place Saturday night in the popular nightlife district of Itaewon, after a large number of people entered a narrow alley behind the Hamilton Hotel, fire and police authorities said in televised briefings. Pictures and videos posted online showed people lying in the streets receiving first aid and being taken to ambulances.
President Yoon Suk Yeol held another emergency meeting Sunday, Yonhap reported, following an earlier briefing in the immediate aftermath of the stampede. He ordered ministries to provide swift first aid and treatment to those injured in the accident and to review safety measures.
The stampede occurred as more than 100,000 people were estimated to have gathered in Itaewon for the annual Halloween festivities, the first since South Korea last month lifted COVID-19 restrictions requiring outdoor mask-wearing.
The accident is the worst to take place in South Korea since the sinking of the Sewol Ferry in 2014 killed 304 people, leading to criticisms against the government at the time for its response to the emergency.
Two of the people killed were foreigners, authorities said Sunday. The accident prompted world leaders including U.S. President Joe Biden and British Prime Minister Rishi Sunak to offer their condolences.
The exact cause of the stampede is currently being investigated and authorities are working to identify the dead, authorities said in a briefing early Sunday broadcast live on YTN. About 1,700 emergency workers had been dispatched to Itaewon, with 144 vehicles mobilized.
Nearby clubs had been searched and no injured or dead were found there, authorities said. There was no sign yet that any narcotics were involved in the stampede.
Yonhap reported earlier that emergency officials were treating roughly 50 people for cardiac arrest after receiving at least 81 calls from people.
———
(With assistance from Sangmi Cha and Eunkyung Seo.)
___
©2022 Bloomberg L.P. Visit bloomberg.com. Distributed by Tribune Content Agency, LLC.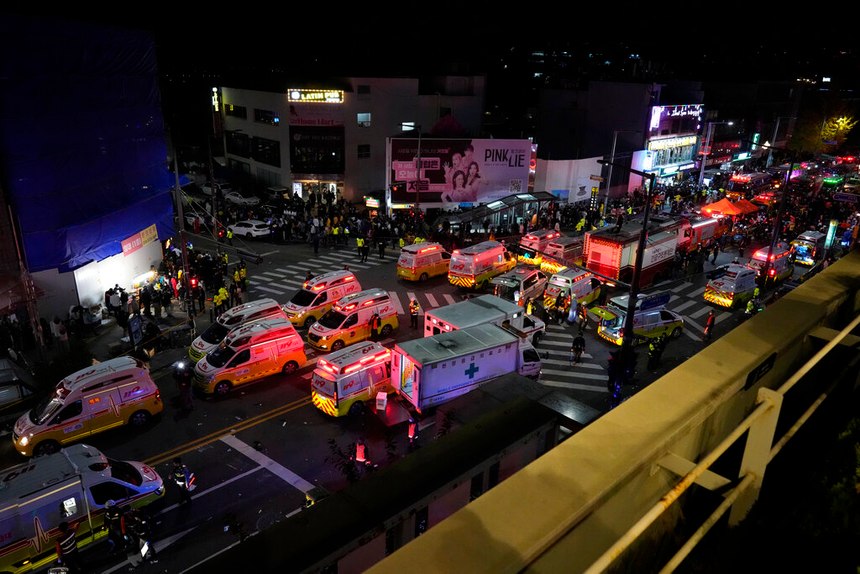 ORIGINAL REPORTING: (1:46 p.m., Oct. 29 CDT)
By Leila Merrill
FireRescue1/EMS1 Staff
SEOUL — At least 120 people were killed and at least 100 others were injured Saturday night in a mass casualty incident during Halloween festivities in Seoul.
Choi Seong-bum, chief of the Yonsan-gu Fire Department, said many people fell, but the cause of death was not immediately provided, CNN reported.
The Associated Press reported that officials said people were crushed to death after a big crowd started pushing in a narrow alley near a major party spot.
More than 800 emergency workers and police officers from throughout the nation, including all available personnel in Seoul, were deployed to the scene.
In TV footage and news photos, ambulances lined the streets amid a noticeable police presence. EMS providers and bystanders were seen performing CPR.