By Leila Merrill
FireRescue1/EMS1 Staff
SEOUL — At least 120 people were killed and at least 100 others were injured Saturday night in a mass casualty incident during Halloween festivities in Seoul.
Choi Seong-bum, chief of the Yonsan-gu Fire Department, said many people fell, but the cause of death was not immediately provided, CNN reported.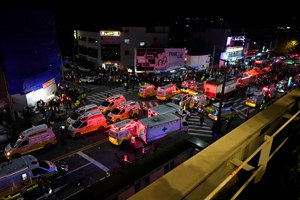 The Associated Press reported that officials said people were crushed to death after a big crowd started pushing in a narrow alley near a major party spot.
More than 800 emergency workers and police officers from throughout the nation, including all available personnel in Seoul, were deployed to the scene.
In TV footage and news photos, ambulances lined the streets amid a noticeable police presence. EMS providers and bystanders were seen performing CPR.