Benjy Egel
The Sacramento Bee
SACRAMENTO — If ever there were cooks who could take the heat of a kitchen ….
The Sacramento Fire Department has developed a somewhat unlikely social media following. More than 117,000 TikTok followers and 41,000 Instagram followers tune in not just for PSAs and flame-filled featurettes, but for food prep videos that leave the mouth salivating like a fire hose.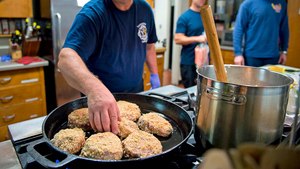 Each meal follows a fairly set routine, though it can be interrupted by service calls. All firefighters at a station put in about $10 apiece, roll dice to see who the cook will be ("winners" take other jobs such as dishwasher or floor sweeper), then head to the grocery store together to shop for lunch and dinner by 10:30 a.m., SFD spokesman Capt. Keith Wade said.
Some old-school dishes have stood the test of time across Sacramento firehouses, such as a sandwich called a "made right" (ground beef, mayonnaise, mustard, cream of mushroom soup, relish, diced bacon and sliced cheese on a hoagie roll).
"Super unhealthy but super delicious," Wade said.
But as Sacramento's culinary tastes have matured and people have become more health-conscious, station chefs have upped their games. Mexican American firefighters have wowed with their carnitas. Thai peanut salads are popular and Station 43's organic garden grows tomatoes, peppers, watermelon and more to be used at the Natomas firehouse.
Premier chefs can dig into the station kitty for the occasional cioppino or surf-and-turf feast. One engineer used to work at Paesano's as a line cook and made the restaurant's specialty fettucine arrostiti (blackened chicken, pasilla peppers and a cilantro-lime cream sauce) when it was his turn.
It's a far cry from when Wade broke into the department 20 years ago. A dish called a "roof burner" (canned tuna on an English muffin, covered in cheese and celery and heated in the oven) was standard.
Worse yet was "perpetual soup" or "perennial soup" (Wade couldn't remember exactly), in which old-timers defrosted the communal bowl, ate some, added some more liquid and ingredients to it, then put it back in the freezer again and again over FIVE YEARS. Someone finally threw it out, to the veterans' ire.
---
Read next
Who said cooking healthy had to be hard? Here are 4 firefighter-approved recipes
One firefighter is showing, not just telling, others in the firehouse how to lead healthier lives by making nutritious food
---
Nowadays, you're more likely to see colorful gyro bowls or chicken burgers with fruit salad or bánh mì with sweet potato fries. And if someone's not pulling their weight in the kitchen, they'll have their station mates telling them to "put some love into it."
"When you're at work, this is the one thing everyone looks forward to, to have time to eat. Because the rest of the day can be very taxing and stressful and trying," Wade said. "When you have the opportunity to have some food and it's good food, it makes the rest of the day wither away."
___
©2022 The Sacramento Bee