By Leila Merrill
WASHINGTON COUNTY, Ga. — While three fired Washington County deputies are awaiting a second trial in the tasing death of Eurie Martin, one of the former deputies continues to work as a volunteer firefighter.
Now, Martin's family is demanding that the Sandersville Fire Department terminate Michael Howell, who is charged with murder in the tasing death, 13WMAZ reported Wednesday. Leonard Jordan, Martin's family friend, got 500 signatures on a petition from people demanding that Howell lose his firefighting job because of not rendering aid.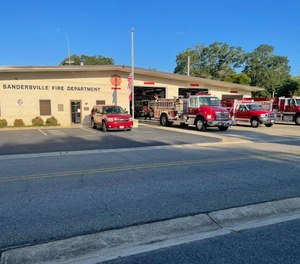 On July 7, 2017, Howell was the first to arrive to a call about a man asking a homeowner for water while walking home. Howell requested backup, bringing to the scene Henry Lee Copeland and Rhett Scott. Video shows the other two deputies tasing Martin at least 15 times in under 5 minutes. None of the three rendered aid.
Copeland, Scott and Howell were previously tried for murder and other charges, but the case ended in a mistrial, the Ledger-Enquirer reported.
"He needs to be terminated because Washington County terminated him," Jordan said. "… or either suspend him until the outcome of the [new] trial."
Jordan presented the petition to the city council, but the city said Howell is still qualified. 
Howell has worked as a volunteer firefighter since 2008, the TV station reported.