Sponsored by Decon7 Systems
By Rachel Zoch for FireRescue1 BrandFocus
Dirty turnout gear can kill, and Chief Gary Cochran knows it. That's why one of the first things he did after becoming chief at Sansom Park FD in Texas was to work on getting everyone's turnout gear inspected and advance cleaned.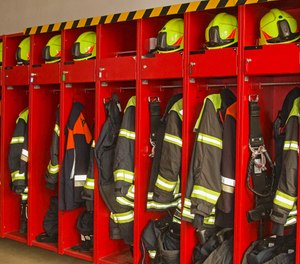 "When we signed up for this job, we knew it was dangerous," he said, "but if we can prevent our firefighters from being exposed to all these dangerous contaminants, I can sleep at night knowing I did the best I could to protect them."
Cochran was already familiar with Decon7 products and pleased with their efficacy, so he called them. What he didn't know yet was that Decon7 had acquired a new mobile extraction unit to bring on-site turnout gear cleaning to the fire station. He was elated to find out that the D7 MEU, staffed by former firefighters, could come out and complete the necessary inspections and advanced cleaning in a matter of hours – rather than the weeks it takes most offsite ISPs.
This is especially beneficial, he says, because Sansom Park is a small department with only one set of gear, so sending it away and waiting several weeks for its return would leave SPFD firefighters without the PPE they needed to serve the community.
"My guys only have one set of gear, so I wasn't able to just break everybody's down and send them off," said Cochran. "I would have to send one shift at a time, and it could be gone two or three weeks. I couldn't afford to do that, so I reached out to Decon7 and said, hey, give me some pricing and come show me what you do again, and I found out they are a certified ISP."
ADVANCED CLEANING vs. GROSS DECON
Although the Sansom Park fire station does have an extractor for cleaning, it isn't capable of the NFPA-recommended biannual advanced cleaning the department needed to get in compliance with NFPA 1851 and Texas Commission on Fire Protection standards. The extractor also produces wastewater that requires special handling, making the task an even greater challenge.
"The extractor can't get all the contaminants out, but it gets out a lot of the carcinogens and things that we are exposed to every day," he said, "and all that contaminated water has to be contained in a sand trap pit so it can be disposed of properly."
In addition, the machine can handle only two sets of gear at a time, making it a slow process to manage all 16 sets the department currently has.
"You have to break all your turnout gear down and wash the layers separately," said Cochran, "so this thing goes through about a 30- or 40-minute cycle, and you're just watching it spin and spin."
SEEING IS BELIEVING
Once he found out they were a certified ISP, Cochran asked Decon7 to bring their MEU to the station and perform the needed inspections and cleanings. The on-site, turnkey service cost a little bit more than sending the gear away for cleaning, but he says it was absolutely worth it – not only for the speed in which the gear was back in service but because he was able to invite the mayor to come check out the process. Seeing the process firsthand, says Cochran, helped make the case not only for the service but also for ordering a second set of turnout gear.
"He thought it was pretty cool and money well worth it. I have a great city council and a great mayor – they're really pro-fire, and they want our firefighters protected," said Cochran. "Most councils and mayors and city managers don't know the process, so the more you can get them involved with what goes on at the fire service, then they get why you're spending so much money because they're a little bit more educated."
Cochran and the mayor were impressed by what the Decon7 MEU can do. The unit contains everything needed to perform advanced inspections, advanced cleaning and drying on site within hours. With one extractor dedicated to outer shells and gloves and another dedicated to liners and hoods, Decon7 is able to clean six sets of turnout gear each cycle. The MEU set up also includes a Solo Rescue from RESCUE Intellitech for an advanced cleaning to six sets of boots per cycle. This ability to do six sets at a time allowed Decon7 to manage SPFD's 16 sets in just one day.
"They wash boots and masks and air packs – all kinds of cool stuff," said Cochran.
The MEU also has two huge dryers that hold six sets each to heat-dry the washed gear in a couple hours, instead of having to wait 24 or 48 hours to let them air dry. Once the advanced cleaning is finished, Decon7 hauls away the wastewater created during the process, making it truly turnkey for the customer.
INSPECTING GEAR FOR INTEGRITY
"They did a very good job," said Cochran. "It was pretty amazing and kind of scary how much junk they got out of our turnout gear."
The Decon7 crew also carefully inspected SPFD's gear using NFPA 1851 standards to make sure that seams and moisture barriers are holding and flagging pieces in need of repair or replacement.
"If water can get through, then contaminants can get through," he said, "so they'll fail them and take them out of service."
Unfortunately, the Decon7 inspectors did find some turnout gear liners that failed, but Cochran says he's grateful to know so he can get them repaired to better protect his firefighters. Decon7 provided a list of each set that failed and the locations of the problems they found so Cochran or Decon7 could send them away for repair.
"They do a great job," he said. "I'm glad they found the failures, because now I can get them repaired and I don't have to worry about my guys being exposed to carcinogens and contaminants and toxins because their gear's been repaired and good to go."
Cochran knows what those toxins can do, and he makes every effort to raise awareness and reduce risk, whether it's promoting the clean cab concept or getting his crews' gear decontaminated. He plans to call on Decon7 and the mobile extraction unit again, even after SPFD gets its second set of gear.
"I'm a big cancer prevention guy," he said. "I have lost too many buddies in the fire service. I've lost 16 of my buddies to cancer, so I want my guys to have the best gear they can have and be protected."
Visit Decon7 Systems for more information.
Read Next: New mobile extraction unit brings turnout gear cleaning to your doorstep