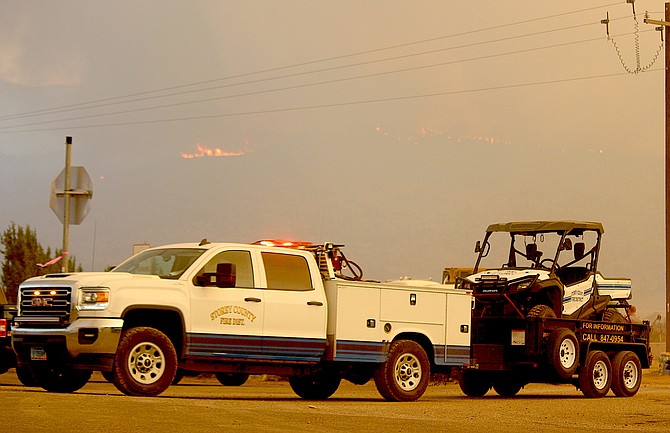 Photo by Kurt Hildebrand.
Highway 395 south of China Spring Road was closed around 5:30 p.m. Wednesday as flames from the Tamarack Fire crested the ridge above Double Spring Flat south of Gardnerville.
Firefighters staged at the spike camp at Leviathan Mine Road to protect homes around the former lakebed in the Pine Nut Mountains.
The southern limit of the closure is Holbrook Junction.
Northbound traffic on Highway 395 is being stopped at the junction with Highway 89 south of the stateline, as well.
Travelers headed north toward Nevada should take Highway 182 in Bridgeport to Highway 338 to Wellington and then north to Yerington.
Southbound traffic will have to go through Carson City.
The fire was burning actively on both sides with a smoke plume clearly visible from the fire burning up a mountain side near Woodfords.
Highway 88 is also closed, meaning traffic coming from California should take Highway 89 at Picketts Junction and go on Highway 50 through South Lake Tahoe then over Kingsbury Grade to reach Carson Valley.
The Tamarack Fire burned into Nevada on Tuesday night prompting officials to ask residents in the Double Spring Flat to Holbrook portion of Highway 395 to evacuate.
Residents south of Leviathan Mine Road will have to go to the Topaz Ranch Estates Community Center.




Read More:Highway 395 closed as flames threaten Double Spring Flat