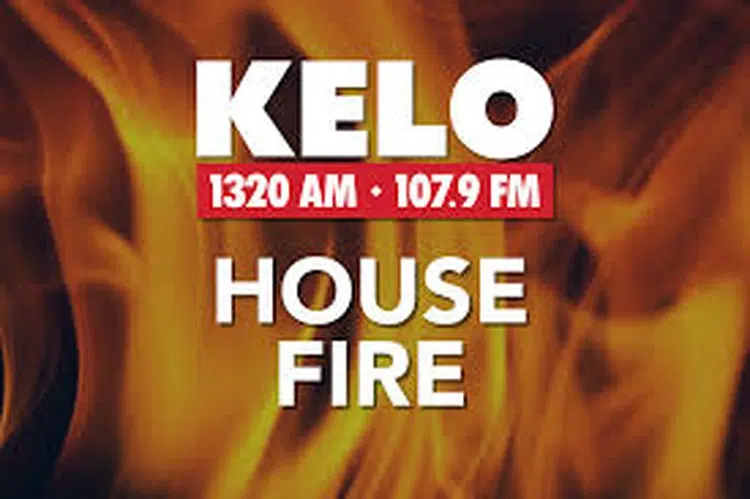 SIOUX FALLS, S.D. (KELO.com) — One person was hospitalized after a house fire in central Sioux Falls Wednesday night, according to Sioux Falls Fire Rescue.
The fire was on South Spring Avenue, a few blocks west of Falls Park. Fire Rescue says they heard someone was on the roof of the house when called about the fire. They say they found the person on the ground when they arrived. They were taken to the hospital.
Firefighters got the blaze under control in about 15 minutes, according to the release from Fire Rescue. They said they'd monitor the house overnight to make sure the fire was put out.
The full release from SFFR is below:
Sioux Falls, South Dakota: On June 30th, 2021, at approximately 8:10 p.m., Sioux Falls Fire Rescue was dispatched to a report of a structure fire in the 900 block of North Spring Avenue. Initial reports were that there were flames coming from back side of the home and there was a person on the roof of the structure.  The first arriving fire crew found heavy fire conditions coming from the rear of the structure and the person on the roof was now in the front yard of the residence.  This individual had suffered injuries and medical treatment was provided by initial arriving fire crews. The patient was then subsequently transported to a local hospital by PCEMS ambulance.
Fire crews simultaneously worked to extinguish the blaze and had the fire under control in approximately 15 minutes. They continued to work for several hours after to ensure the fire was extinguished. Fire damage was sustained to the second floor and rear exterior of the structure. A fire crew will remain on-scene throughout the night to monitor the residence. 
There were no injuries reported from responders.  The cause of the fire is still under investigation. Sioux Falls Fire Rescue responded with 5 fire trucks, 3 support vehicles, and 24 firefighters.
SFFR would like to thank Metro Communications, Sioux Falls Police, PCEMS ambulance, Sioux Falls Public Works, and MidAmerican Energy for their assistance.
Sioux Falls Fire Rescue would like to remind all residents and visitors to have an evacuation plan in case of fire in their home.


Read More:One person hospitalized after Sioux Falls house fire