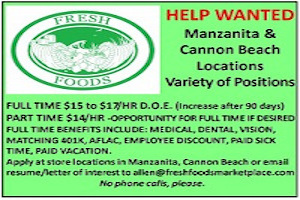 The Tillamook County Pioneer sent ALL candidates (in contested and uncontested races) a request for a candidate's statement. Here are the candidate statements that we received in one document.
The May 18th ballot features dozens of opportunities to serve your community on local boards for our schools, ports, transportation district, recreation districts, water districts, fire districts and more. There is not a voters pamphlet for a primary/special election, therefore the Pioneer provides this opportunity for candidates to tell voters about themselves and the position they are seeking, even if running unopposed.
Tillamook County Pioneer CANDIDATE'S STATEMENT – 5 minute "why we should vote for you" pitch; include information about why you are running for the position and your TOP 3 most-important-issues facing the board/organization you wish to serve on.
As Tassi O'Neil, Tillamook County Clerk commented, "In my 30 years, I've never seen so many candidates for a mid-term, special districts election." Please do your research. Review the candidate's statements, even if you might have already decided who you are voting for – look at some of the letters to the editor supporting candidates. You might think that this election isn't "important" but these boards and organizations are the very foundations of our communities – protecting our transportation, ports, water, parks, recreation, schools and children.
VOTE! And be sure to return your ballots before May 18th. If you are going to mail your ballot, please do so by May 11th to ensure that it gets to the county clerk's office by May 18th. There are ballot drop boxes available throughout the county, the list is here.
Tillamook County Emergency Communications District 911
Direction, Position 3
Matt Kelly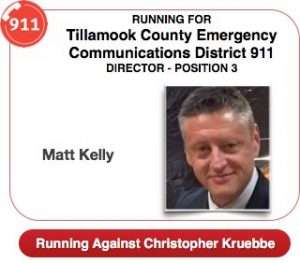 I'm running for Position 3 on the Tillamook County Emergency Communication District Board. As a former 911 dispatcher, firefighter, and current law enforcement officer I understand how important the 911 system is to all of us. I want to be a part of helping maintain the quality of service that 911 is and has provided to the citizens and visitors of Tillamook County.
911 dispatchers are the first, "First Responders". They are the voice on the phone in your time need and will use all their skills and abilities to ensure you receive the appropriate help.
I will do my best to ensure 911 provides the service that Tillamook County needs.
Thank you for your support.
Christopher Kruebbe


We need better communications to discern the difference between a 911 call for law enforcement, a call for mental health, substance abuse, EMS, or firefighters. Mental Health Counselors and Substance Abuse Counselors dispatched through local 911 can help reduce the unnecessary involvement of deputies, officers, firefighters, or EMS. In the effort to facilitate this, I propose a name change for the board to "Tillamook County Emergency Communications District 911/988" when the new 988 number is implemented nationwide.
​https://www.fcc.gov/suicide-prevention-hotline
911/988 Operators need to be trained in Mental Health First aid:
https://www.mentalhealthfirstaid.org/
This will properly prepare/educate operators for knowing what agency to deploy mental health as opposed to uniformed/armed law enforcement, EMS, or Firefighters. Research shows that, depending on the situation, deploying uniformed first responders to a mental health or substance abuse situation could unnecessarily traumatize subjects that are calling for non-law enforcement reasons.
https://www.americanprogress.org/issues/criminal-justice/reports/2020/10/28/492492/community-responder-model/
My pursuit of Tillamook Communications District 911 is out of my desire to give back to my community. It started when I moved here 6 years ago when I joined the Bay City Fire Department and as a member of the Nehalem Emergency Volunteer Corps CERT Team. As a first responder I learned about emergency services. My five years of volunteering led to a run for Mayor of Bay City. I have learned and continue to learn about the governance of a small town. I ran meetings, maintained order, promoted the city, issued press releases, attended government meetings, deliberated, pontificated, all the while keeping the interests of the electorate in mind. It's the honor to serve that inspires me and the opportunity to serve Tillamook Communications District 911 would be a great honor.
Tillamook County is woefully unprepared for the substance abuse problems and mental health concerns that our community will face in the coming years, especially now that we have experienced a catastrophic blow to our economy. Alcohol sales are up in record numbers in Oregon and we already had a serious problem to begin with. When locals call Tillamook a drinking town with a fishing problem, you know it can't be good. So what are we prepared to do about it? I can tell you what I am prepared to do, and that's to work with local law enforcement professionals to bring what I envision as reimagining policing and law enforcement based on research and empirical-based approaches. Equity, Inclusion, Justice, and Diversity are key concepts that need to be considered in this effort.
I hope you will consider me as your next elected member of Tillamook Emergency Communications District 911, so that together we can imagine the possibilities of what we the people want for the future of 911 Emergency, mental health emergencies, substance use emergencies, policing, and law enforcement in Tillamook County. To find out more about my campaign and philosophy, please visit kruebbe.weebly.com, I appreciate your support!
@kruebbefortillamookcommunicationsdistrict911PosNo3. Thank you for taking the time to visit my site and learn about what my hopes are for Tillamook County. Please do not hesitate to call my campaign headquarters to have any conversations you would like to have with me at 503-457-7032.
Tillamook County Transportation District, Director Position 3
Jackie Edwards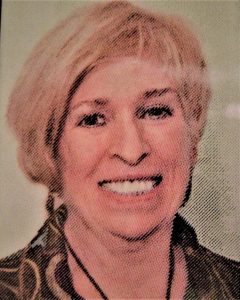 The Transportation District Board offers an opportunity to assist citizens of Tillamook County at a very basic and necessary level. I have served on the TCTD Board of Directors (Position #3) the past seven years and also served several years on the District's Transportation Advisory and Budget committees, assisting in gathering information and making recommendations to the Board.
Transportation is vital to the survival of families always, but especially in a rural area where job locations are many times a great distance from home and medical appointments can be impossible to attend without adequate (and specially assisted) transportation. In the years I have been involved with the District, I have seen services to our residents multiply, addressing needs not previously met. The District and its leadership give this very necessary service to all residents and I want to continue to offer my skills to carry on and expand these services to the entire county. We are fortunate to have people who care at the District who are in key positions. I want to continue to be a part of this compassionate organization.
My professional background is in financing – from purchasing, to auditing, to allocation-of-funds/budgeting to cost sections. This background has included continuous education with constant upgrading of skills in Contract Administration.
Additionally, I have seen the world from the perspective of individuals struggling to survive. Those are individuals who especially need our services. I have volunteered at battered women and youth shelters and also worked a suicide hotline. So, while my skills are "work skills," they are also "people skills." Tillamook County is a caring county and I want to continue to be a part of it by serving the Transportation District. My abilities and experience are a good fit with the needs of the District and our community.
Over the past 8-plus years the TCTD Board of Directors has taken…


Read More:Candidate Statements for May 18th Election – Tillamook County Pioneer